Map and Itinerary for Ty Losket, Le Penty, Coz Forn and L'Atelier
Plougasnou / Plouézoc'h / Locquirec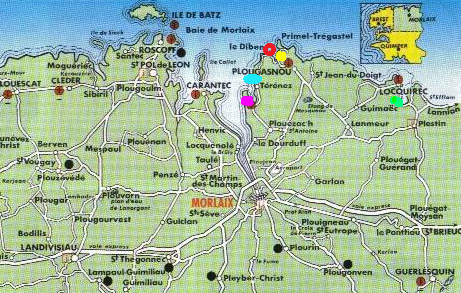 Ty Losket L'Atelier Coz Forn LePenty

Itinerary from Paris : A10/A11 Chartres , Le Mans , E50/N12 Rennes, St Bieuc, and 10 km before Morlaix,
exit "Plouigneau/Lanmeur", go to Lanmeur and Plougasnou or Plouezoch ( around 5.30 hours ).

For l'Atelier, exit "Locquirec/Plestin-les-Grèves" on the motor way E50/N12, 15 km before Morlaix.

SNCF : Train TGV in Morlaix (17 km) - 3 h 40 from Paris-Montparnasse.
Taxi and Bus in Morlaix Station (Click on Bus for schedules) .

Airport in Lannion (40 km) and Brest (75 km)

Ferry in Roscoff (35 km) for England, Irland and Spain ( Brittany Ferries)